With the new year we see new hope of holding weddings similar to how we use to. We are hopeful that some of the restrictions placed on us will be lifted by the summer, but as anything we learned in 2020, its a wait and see.
We are real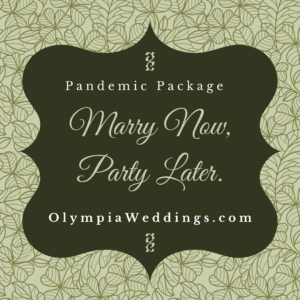 ists, the numbers are not good currently. Receptions are seen as high risk, and who really wants to have a reception with no food and the threat of friends and family members getting sick or worse.  We have come up with the idea of getting married now, then holding you reception when it is safer to do so. It is not that revolutionary of an idea. Couples have been doing it for other reasons for years. Military deployments being the top one.
So what is the deal?
We have always offered elegant little elopements, which include flowers, cake and accommodations. We are offering a modified version of what we know how to do so well;
Ceremony with Officiant, and up to 24 guests (masks required, socially distanced by household, ceremony and signing all happens within one hour time frame)
Flowers (Bouquet and two side arrangements of roses)
Cake for two (served for the couple only, typically in their room after the ceremony. as we cannot serve food or hold receptions)
Accommodations for the couple for two nights in either the Astoria Room or Puget Suite South.
Total cost for this will be $1000.
However this can be used as a deposit on larger wedding and reception once restrictions are lifted. You can apply the deposit to either of the following packages;
All Inclusive Petite Wedding – normal cost $3999
All Inclusive Intimate Wedding – normal cost $5999
Of course follow up ceremonies are subject to availability and pandemic restrictions.